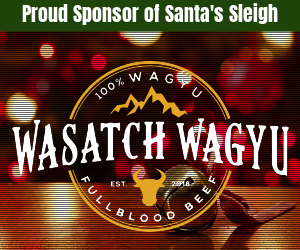 We are excited to announce that Wasatch Wagyu will be sponsoring the efforts of Santa's Sleigh 2019.
Wasatch Wagyu is a producer of beef products located in Northern Utah. They raise full blood Japanese cattle in Utah's Wasatch mountain range. As a small family business the operation of Santa's Sleigh is close to their mission of serving local communities.
Wasatch Wagyu will be helping with monetary, product and logistical support with the 2019 Santa Sleigh effort.
Owners Greg and Stacy Gillen love the idea of the personal touch of Santa's Sleigh.
"We believe very strongly in Christmas, the spirit of giving and especially of helping those who need a little extra love at Christmastime," Stacy told us. "There is nothing better than quietly and anonymously lending a hand. We love that about Santa's Sleigh — that help can arrive by way of Santa, without a need for thanking someone specific or even identifying the giver. This is so much fun! We cannot wait for Santa to deliver what we can contribute to making Christmas merrier for someone else."
The contributions of Wasatch Wagyu have given Santa's Sleigh 2019 a fantastic start.