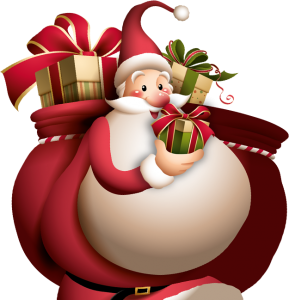 Q: How long have you been doing Santa's Sleigh?
A: Since 2004
Q: Is this a 501c3?
A: No. We are a completely private effort.
Q: Are my donations tax deductible?
A: No.
Q: How is the money accounted for?
A: 100% of the money donated goes to the effort. However, money is not really our focus. We actually focus more on local donations of time, sharing connections to help others and giving to licensed charities when we are able. We generally target enough donations to meet the needs of 10 to 15 families or individuals, most of which is given in exchange for products or services on our websites (though some do donate cash).
Q: Why anonymous giving?
A:  We believe in Santa Claus — the real St. Nicholas. He did his work in the dark of night because he did not want to be known for his good deeds. He did not want to embarrass those whose needs he met. He wanted no sense of obligation created and he did not want to be paid back. He did his giving anonymously. We believe this is one of the real blessings of Christmas — to give without notice or promise of a return. We believe in love and in helping others. It's not about us. It's about them.
Q: This sounds great. Why not do this on a bigger scale?
A: Our goals are to help people both ways — in both giving and in receiving. (It is hard to tell who benefits more.) We believe that there are bigger, better organized groups who tackle noble causes that we cannot. We aim to keep things simple and to give aid to the little guys — those who frequently get overlooked during the season of giving.
Q: Is this a way for me to help someone without them knowing that I'm doing the helping?
A: YES! That's our specialty. We'd love to help in your effort to help — without anyone knowing who we (or you) are.
Q: I'm suspicious. This doesn't feel legit to me.
A: Then don't give. Instead, invest your time in our communities, websites and social media channels online and get to know us. We believe in working for what we receive. That takes trust. We have been doing this for many years and will be doing it for many more. Please get to know us.